BabyCareSleep final meeting
The company Elastic Confort is patenting a prototype developed to prevent sudden infant death.
IBV hosted the final meeting of the European project BabyCareSleep. After two years of research, this initiative has developed a mattress that becomes an active element in the prevention of sudden infant death syndrome.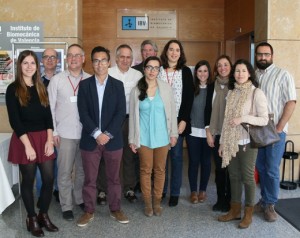 The company Elastic Confort is patenting a prototype of the functional System that have been tested with the collaboration of the Sleep Unit of Hospital Quirón from Valencia.
The project was coordinated by the Valencian company Elastic Confort -Manufacturers of Babykeeper crib mattress. In addition to the Sleep Unit of Hospital Quirón from Valencia also has participated IBV and technology centers in Belgium (CENTEXBEL) and England (ISSRI) and businesses as PIN Arboledas (Spain), British COGENT and Belgian VdS . The project has received the active collaboration of ASEIP (Association for the Study of pediatric research).
Sudden Infant Death Syndrome (SIDS) is the highest cause of death in the post‐neonatal period (between 2nd and 6th month of life). Only in Europe, each year 2 400 infants still die of SIDS, an unexpected disease happening to infants who die in their sleep with no evidence of accidental asphysia, inflicted injury or organic disease; being a multifactorial syndrome mainly related to overheating, prolonged apnea, gastroesophageal reflux or inadequate bedding system and posture. In addition, SIDS is ten times more frequent within preterm newborns, around 385 000 babies per year are born preterm in Europe.
To address this situation, BabyCareSleep has developed novel non-invasive intelligent monitoring system to prevent unexpected deaths in previously healthy infants and to detect risky situations in an early stage. Integrated in the cot through biosensing textiles, matrices of sensors will detect the most relevant biological parameters that will enable the detection of potential risky situation and performing preventive actions.
The preventive system will stimulate sufficiently the baby's brain (generate a sleep arousal) avoiding infant's hypoxia and resuming breathing activity and will be so gentle to not awake the baby from sleep.